Nov 27, 2013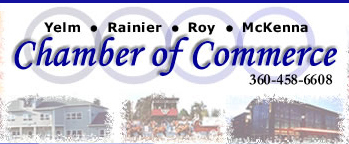 From the Yelm Area Chamber of Commerce, November 26, 2013:
Congratulations to the 2013 Annual Chamber Award Winners!
The following Chamber members will be honored at the Tuesday, December 10th Luncheon Forum!
We are excited to have the opportunity to honor these deserving businesses at our luncheon.
They have all contributed many volunteer hours and a wide-variety of financial support for a substantial cross-section of our community.
The Chamber members jointly make a tremendous difference for the citizens of our local area.
2013 Honorees:
Business of the Year (0-5) Allstate Insurance, Ronelle Funk
Business of the Year (6-10) Nisqually Valley News, Michael Wagar
Business of the Year (11-20) Jason's Greenhouse, Jason Witherow
Business of the Year (21-49) McDonald's of Yelm, Joseph Bravo
Business of the Year (50+) JZK, Inc., JZ Knight
Non-Profit, The Rotary Club of Yelm, Tom Dewell
Chamber Volunteer of the Year, April Sage, KeyBank